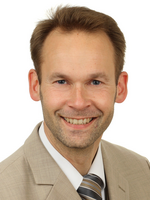 Positions held
Since 2009: Associate Professor of Pharmaceutical Chemistry (W2), University of Mainz
2002-2009: Independent Head of research group, IPMB Heidelberg University
2001-2002: Postdoc at the Free University of Berlin
1999-2001: Postdoc, California Institute of Technology
Education
1999: PhD ULP Strasbourg, France
1995: Diploma in Chemistry
Most relevant publications by Mark Helm
Lence T, Akhtar J, Bayer M, Schmid K, Spindler L, Ho CH, Kreim N, Andrade-Navarro MA, Poeck B, Helm M and Roignant JY (2016). m6A modulates neuronal functions and sex determination in Drosophila. Nature, 540, 242-247.
Hauenschild R, Tserovski L, Schmid K, Thüring K, Winz ML, Sharma S, Entian KD, Wacheul L, Lafontaine DL, Anderson J, Alfonzo J, Hildebrandt A, Jäschke A, Motorin Y, Helm M (2015). The reverse transcription signature of N-1-methyladenosine in RNA-Seq is sequence dependent. Nucleic Acids Res, 43, 9950-64.
Kellner S, Neumann J, Rosenkranz D, Lebedeva S, Ketting RF, Zischler H, Schneider D and Helm M (2014). Profiling of RNA modifications by multiplexed stable isotope labelling. Chemical Commun, 50, 3516-8
Gehrig S, Eberle ME, Botschen F, Rimbach K, Eberle F, Eigenbrod T, Kaiser S, Holmes WM, Erdmann VA, Sprinzl M, Bec G, Keith G, Dalpke AH and Helm M (2012). Identification of modifications in microbial, native tRNA that suppress immunostimulatory activity. J Exp Med, 209, 225-233.
Voigts-Hoffmann F, Hengesbach M, Kobitski AY, van Aerschot A, Herdewijn P, Nienhaus GU and Helm M (2007). A methyl group controls conformational equilibrium in human mitochondrial tRNALys. J Am Chem Soc, 129, 13382-13383

Research website