Gene Regulation in Evolution: From Molecular to Extended Phenotypes (GenEvo)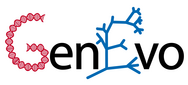 GenEvo is a DFG funded Research Training Group organised in a collaboration between the faculty of biology of Johannes Gutenberg University Mainz (JGU) and the Institute of Molecular Biology (IMB). The initiative is centred around the core question of how complex and multi-layered gene regulatory systems have evolved. It will bring together scientists with expertise in evolutionary and molecular biology to train a new, interdisciplinary generation of PhD students and solve innovative research questions. The initiative involves twelve outstanding researchers from JGU's biology department and IMB.

Prof. Susanne Foitzik
Institute of Molecular and Organismic Evolution

Prof. René Ketting
Institute of Molecular Biology
Funding: Deutsche Forschungsgemeinschaft
What is the core research idea of GenEvo?

Phenotypic variation between individuals and species is largely driven by differences in gene expression and arises from, among other things, natural selection. Gene expression is regulated via sequence- and non-sequenced-based mechanisms, including cis-regulatory DNA elements, transcription factors, non-coding RNAs, DNA methylation, histone modifications, and other posttranscriptional and posttranslational processes. The relative contribution of these factors in gene regulatory networks as well as the processes underlying their evolution are, so far, poorly understood.

The scientific aim of GenEvo is to gain a better understanding of the evolution of complex and multi-layered gene regulatory systems. We will investigate which regulatory processes are evolutionarily conserved, which are prone to change and which selective regimes they underlie. By transferring methods developed for model species to other taxa, we will study gene regulatory evolution in a broader intra- and interspecific context. Some projects will even focus on the coevolution of gene regulation, by revealing how interacting species interfere with each other's gene regulation.

GenEvo will bring together scientists from evolutionary and molecular biology with the aim of solving a number of innovative research questions and to train a new, interdisciplinary generation of PhD students in subjects that are rarely taught in combination: evolutionary inference, epigenetics, gene regulation, omics techniques and bioinformatics.

What does the qualification programme involve?
GenEvo is a structured programme offering high quality training to 60-80 PhD students. The first cohort of 14 PhD students started in October 2019. GenEvo gives them the opportunity to work on ambitious research projects and provides them with a broad, interdisciplinary education, thus preparing them for a successful career in the life sciences. To achieve this, the RTG has a structured and comprehensive qualification program.
GenEvo students have several tiers of supervision including a PhD Buddy and an interdisciplinary thesis advisory committee to ensure well-defined, successful projects advised by both evolutionary and molecular biologists.
GenEvo provides broad scientific training, including scientific lectures and practical courses on a wide range of state-of-the-art research methods. These are complemented by essential professional skills training to prepare students for the next step in their career.
We also hold a summer school and annual student symposia and retreats to foster networking across all groups.
Fellowships for conference travel and stays abroad are available.
GenEvo students are integrated into IMB's established International PhD Programme (IPP) on Gene Regulation, Epigenetics & Genome Stability, which has 147 students from 39 nations.
We are currently looking for additional PhD students who like to be associated with the RTG. Associated PhD students can benefit from the same resources as full members, including the supervision structures, fellowships, trainings, and networking opportunities.
Requirements for association: (i) your thesis topic thematically fits the RTG research idea, (ii) your thesis supervisor is a PI or a contributed-PI of the RTG, and (iii) you started your PhD no earlier than mid-2018 (i.e. 1.5 years into your PhD).
If you are interested in becoming associated with GenEvo, please contact the GenEvo coordinator for further information.
A second cohort of GenEvo PhD students will start in June 2022. Details for application will be announced about a year in advance.
GenEvo Coordinator
Dr Sonja Wendenburg
+49-6131-39-21569