DNA Repair & Genome Stability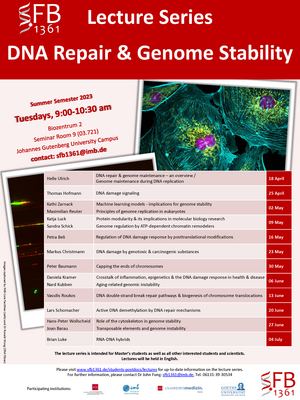 In the summer semester 2023, the SFB 1361 will host the Lecture Series "DNA Repair & Genome Stability" again. We have added some new topics, so some lectures might also be interesting to those who already attended the lecture series in the past years. The full schedule can be found on the SFB 1361 website or on the poster.
They will take place at Biozentrum 2, seminar room 9 (03.721), during the summer semester on Tuesdays, 9:00-10:30 am. They will be given by representatives from IMB, Johannes Gutenberg University Mainz, University Medical Center Mainz and Goethe University Frankfurt.
Lectures are open to scientists and students affiliated with the participating institutions. If you are a JGU Master's student and wish to receive credits points for attending this lecture series, please register via JOGU-StINe.
For further information, feel free to contact us.