15-09-2022
Public lecture on "The mystery of human ageing" by Prof. Björn Schumacher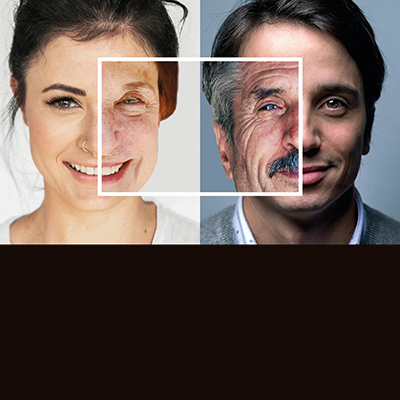 ---
PRESS RELEASE
15 September – Ageing is one of the greatest challenges facing our society. Soon, one-third of our population will be over the age of 65 and many of these individuals will suffer from age-related diseases, such as dementia, cancer, cardiovascular disease, diabetes or arthritis. We cordially invite you to join a public lecture on "The mystery of human ageing: New insights into the biology of ageing" by Prof. Björn Schumacher from the CECAD (Cluster of Excellence on Cellular stress response in Aging-associated Disease) in Cologne. Prof. Schumacher will explain the underlying causes of ageing alongside new and emerging ways to counteract the ageing process and prevent age-related diseases. These techniques can be used to promote healthy ageing in human societies in the future.
Prof. Björn Schumacher is the Director of the Institute for Genome Stability in Aging and Disease at the CECAD in Cologne. His research focuses on how DNA damage leads to loss of function and disease with age, and how organisms cope with this challenge. In particular, his group was responsible for discovering the GDISR (germline DNA damage-induced systemic stress resistance) pathway, a previously unknown immune mechanism that is activated in response to DNA damage, thereby prolonging life. Prof. Bjorn Schumacher has been awarded the Innovation Prize from the State of North Rhine-Westphalia, holds an ERC starting grant, coordinates the Marie Curie ITN research network "CodeAge" on chronic DNA damage responses in ageing, and is a member of various editorial boards of international journals.
The lecture will take place at 18:00 on 22 September at the Institute of Molecular Biology (IMB) in Mainz. This lecture is part of the IMB/SFB 1361 Conference on "Restore, Reorganise, Repurpose: The many faces of DNA repair" and is co-organised by the Centre for Healthy Ageing (CHA). The lecture will be held in German is open to the general public.
For more information, please check the webpage of the IMB/SFB conference: https://www.sfb1361.de/2022conference/oeffentlicher-vortrag-public-lecture
---
Further details
Further information on Prof. Schumacher's research: https://schumacher.cecad-labs.uni-koeln.de/home
About the Centre for Healthy Ageing, Mainz
The Centre for Healthy Ageing (CHA) is a virtual research centre launched in 2021 that brings together scientists in basic and clinical research from across Mainz that focus on ageing and age-related diseases. These findings should be used to promote healthy ageing and to find treatments that could prevent or cure age-related disease. For more information, please visit: www.cha-mainz.de.
About the Institute of Molecular Biology gGmbH, Mainz
The Institute of Molecular Biology gGmbH (IMB) is a centre of excellence in the life sciences that was established in 2011 on the campus of Johannes Gutenberg University Mainz (JGU). Research at IMB focuses on the cutting-edge fields of epigenetics, genome stability, ageing and RNA biology. The institute is a prime example of successful collaboration between a private foundation and government: The Boehringer Ingelheim Foundation has committed 154 million euros to be disbursed from 2009 until 2027 to cover the operating costs of research at IMB. The State of Rhineland-Palatinate has provided approximately 50 million euros for the construction of a state-of-the-art building and is giving a further 52 million euros in core funding from 2020 until 2027. For more information about IMB, please visit: www.imb.de.
Boehringer Ingelheim Foundation
The Boehringer Ingelheim Foundation is an independent, non-profit organization that is committed to the promotion of the medical, biological, chemical, and pharmaceutical sciences. It was established in 1977 by Hubertus Liebrecht (1931–1991), a member of the shareholder family of the Boehringer Ingelheim company. Through its Perspectives Programme Plus 3 and its Exploration Grants, the Foundation supports independent junior group leaders nationwide. It also endows the international Heinrich Wieland Prize, as well as awards for up-and-coming scientists in Germany. In addition, the Foundation funds institutional projects in Germany, such as the Institute of Molecular Biology (IMB), the department of life sciences at the University of Mainz, and the European Molecular Biology Laboratory (EMBL) in Heidelberg. https://www.boehringer-ingelheim-stiftung.de/en/index.html
Press contact for further information
Dr Ralf Dahm, Director of Scientific Management
Institute of Molecular Biology gGmbH (IMB), Ackermannweg 4, 55128 Mainz, Germany
Phone: +49 (0) 6131 39 21455, Email: press(at)imb.de