12-05-2021
Lukas Stelzl joins IMB as an Associate Group Leader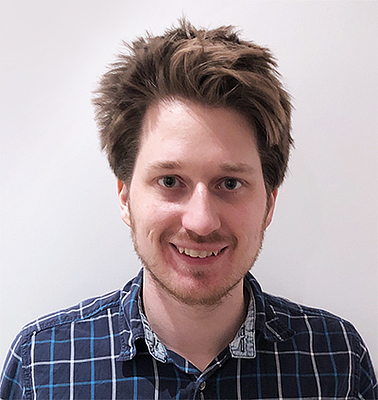 ---
PRESS RELEASE
12 May - The Institute of Molecular Biology (IMB) is delighted to welcome Lukas Stelzl as an Associate Group Leader. Lukas joins us from the Max Planck Institute of Biophysics in Frankfurt, where he worked as a postdoctoral fellow. Lukas' field of expertise is liquid-liquid phase separation and how this regulates gene expression in development and disease. He is also a junior group leader in the ReALity initiative (Resilience, Adaptation and Longevity). ReALity promotes excellence in research aimed at understanding how molecular and cellular systems react and adapt to existential threats of intrinsic and environmental origins to maintain homeostasis and promote longevity.
Liquid-liquid phase separation (LLPS) is a phenomenon where biomolecules (e.g. proteins or nucleic acids) condense to form droplets within a solution, similar to the demixing of oil and vinegar in a vinaigrette. In cells, this allows biomolecules to be physically separated from the surrounding cytoplasm and condense to form membraneless organelles with specific functions, such as the nucleolus, stress granules and germ granules. LLPS thus helps to organise functions such as gene transcription in time and space and is critical for proper cell function.
LLPS is facilitated by interactions between so-called disordered proteins, which are flexible and have no fixed structure. Many factors can affect the interactions between disordered proteins, such as mutations or posttranslational modifications that modify the structure, hydrophobicity and charge of the protein. Lukas and his lab study how LLPS provides robust gene regulation in development, as well as how posttranslational modifications and mutations in disordered proteins can dysregulate LLPS in ageing and disease. They do this by using in silico simulations to model interactions between disordered proteins. This computational approach can reveal information about biochemical interactions at the atomic level, which could not be otherwise observed, and helps scientists to better understand their experimental results in the lab. By studying the underlying principles of LLPS, Lukas and his group gain insights into how cells maintain precise control of biological functions, as well as how this regulation is disrupted in disease.
---
Further details
Lukas is an Associate Group Leader at IMB and a ReALity Junior Group Leader at Johannes Gutenberg University Mainz. Further information about research in Stelzl lab can be found at www.imb.de/stelzl. The Stelzl lab is supported by ReALity and the M3ODEL Mainz Institute of Multiscale Modelling and Research Initiative of the State of Rhineland-Palatinate.
About the Institute of Molecular Biology gGmbH
The Institute of Molecular Biology gGmbH (IMB) is a centre of excellence in the life sciences that was established in 2011 on the campus of Johannes Gutenberg University Mainz (JGU). Research at IMB focuses on three cutting-edge areas: epigenetics, developmental biology, and genome stability. The institute is a prime example of successful collaboration between a private foundation and government: The Boehringer Ingelheim Foundation has committed 154 million euros to be disbursed from 2009 until 2027 to cover the operating costs of research at IMB. The State of Rhineland-Palatinate has provided approximately 50 million euros for the construction of a state-of-the-art building and is giving a further 52 million in core funding from 2020 until 2027. For more information about IMB, please visit: www.imb.de
About Johannes Gutenberg University Mainz
Johannes Gutenberg University Mainz (JGU) is a globally recognized research-driven university with around 31,500 students. Its main core research areas are in particle and hadron physics, the materials sciences, and translational medicine, while its most outstanding research achievements in the humanities have been attained in the fields of American Studies and Historical Cultural Studies. JGU's academic excellence is reflected in its success in the Excellence Initiative of the German federal and state governments: In 2012, the university's Precision Physics, Fundamental Interactions and Structure of Matter (PRISMA) Cluster of Excellence was approved and the funding of its Materials Science in Mainz (MAINZ) Graduate School of Excellence was extended. Moreover, excellent placings in national and international rankings, as well as numerous other honors and awards, demonstrate just how successful Mainz-based researchers and academics are. Further information at www.uni-mainz.de/eng
Boehringer Ingelheim Foundation
The Boehringer Ingelheim Foundation is an independent, non-profit organization that is committed to the promotion of the medical, biological, chemical, and pharmaceutical sciences. It was established in 1977 by Hubertus Liebrecht (1931–1991), a member of the shareholder family of the Boehringer Ingelheim company. Through its Perspectives Programme Plus 3 and its Exploration Grants, the Foundation supports independent junior group leaders. It also endows the international Heinrich Wieland Prize, as well as awards for up-and-coming scientists in Germany. In addition, the Foundation funds institutional projects in Germany, such as the Institute of Molecular Biology (IMB), the department of life sciences at the University of Mainz, and the European Molecular Biology Laboratory (EMBL) in Heidelberg. www.bistiftung.de
Press contact for further information
Dr Ralf Dahm, Director of Scientific Management, Institute of Molecular Biology gGmbH (IMB), Ackermannweg 4, 55128 Mainz, Germany. Phone: +49 (0) 6131 39 21455, Fax: +49 (0) 6131 39 21421, Email: press(at)imb.de