02-06-2022
Jan Padeken joins IMB as a Group Leader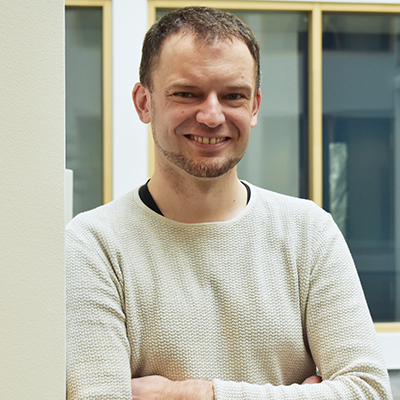 ---
PRESS RELEASE
2 June – The Institute of Molecular Biology (IMB) is delighted to welcome Jan Padeken as IMB's newest Group Leader. Previously, Jan worked as a senior postdoc at the Friedrich Miescher Institute in Basel, Switzerland. Jan's research focuses on understanding how heterochromatin is altered in response to persistent stress and how this contributes to genome stability and the maintenance of tissue integrity.
With the cell, DNA is wrapped around histone proteins, forming a structure similar to beads on a string. Chemical modifications on these histone proteins (e.g. methylation) can control the compaction of the DNA, and thereby silence or activate gene expression.
DNA that is highly compacted is known as heterochromatin and is marked by histone H3 lysine 9 methylation (H3K9me). In multicellular eukaryotes, heterochromatin has two main functions: first, it silences the transcription of satellite repeats and transposable elements. Second, it silences tissue-specific genes during development. Dysregulation of heterochromatin therefore activates repetitive elements and genes that should be silenced, resulting in genomic instability and mutations, as well as loss of tissue integrity.
Despite the importance of heterochromatin in maintaining genomic and tissue integrity, we know very little about what controls heterochromatin establishment in complex organisms. Jan's lab works on deciphering how heterochromatin pathways are altered in cells exposed to persistent DNA damage, and how this affects the adaptation of cells to their environment and their genomic integrity. They do this by studying heterochromatin and histone modification changes in C. elegans during ageing and in models of human diseases (such as Cockayne syndrome). By characterising the pathways that link heterochromatin and DNA damage, Jan and his team work to unravel the mechanisms underlying human diseases such as cancer and ageing.
---
Further details
Jan Padeken is a Group Leader at IMB. Further information about research in the Padeken lab can be found at www.imb.de/padeken.
About the Institute of Molecular Biology gGmbH
The Institute of Molecular Biology gGmbH (IMB) is a centre of excellence in the life sciences that was established in 2011 on the campus of Johannes Gutenberg University Mainz (JGU). Research at IMB focuses on the cutting-edge fields of epigenetics, genome stability, ageing and RNA biology. The institute is a prime example of successful collaboration between a private foundation and government: The Boehringer Ingelheim Foundation has committed 154 million euros to be disbursed from 2009 until 2027 to cover the operating costs of research at IMB. The State of Rhineland-Palatinate has provided approximately 50 million euros for the construction of a state-of-the-art building and is giving a further 52 million in core funding from 2020 until 2027. For more information about IMB, please visit: www.imb.de.
Boehringer Ingelheim Foundation
The Boehringer Ingelheim Foundation is an independent, non-profit organization that is committed to the promotion of the medical, biological, chemical, and pharmaceutical sciences. It was established in 1977 by Hubertus Liebrecht (1931–1991), a member of the shareholder family of the Boehringer Ingelheim company. Through its Perspectives Programme Plus 3 and its Exploration Grants, the Foundation supports independent junior group leaders. It also endows the international Heinrich Wieland Prize, as well as awards for up-and-coming scientists in Germany. In addition, the Foundation funds institutional projects in Germany, such as the Institute of Molecular Biology (IMB), the department of life sciences at the University of Mainz, and the European Molecular Biology Laboratory (EMBL) in Heidelberg. www.bistiftung.de
Press contact for further information
Dr Ralf Dahm, Director of Scientific Management
Institute of Molecular Biology gGmbH (IMB), Ackermannweg 4, 55128 Mainz, Germany
Phone: +49 (0) 6131 39 21455, Email: press(at)imb.de