Mechanisms of memory in neocortical circuits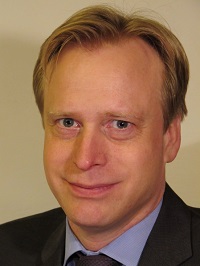 Position
Since 2014 Professor, Institute of Physiology, University Medical Center, University of Mainz
2006-2014 Group Leader, Research Institute of Molecular Pathology (IMP), Vienna
2001-2006 Postdoctoral research with Dr. R. Malinow and Dr. A. Zador, Cold Spring Harbor Laboratory
Education
1998-2001: PhD with Dr. K. Gottmann and Dr. U. Eysel, Ruhr-University Bochum
1998: Diploma in Biology, Ruhr-University Bochum
Most relevant publications by Simon Rumpel
Ceballo S, Bourg J, Kempf A, Piwkowska Z, Daret A, Pinson P, Deneux T, Rumpel S and Bathellier B. (2019). Cortical recruitment determines learning dynamics and strategy. Nat. Commun, 10: 1479.
Mongillo G, Rumpel S and Loewenstein Y. (2018). Inhibitory connectivity defines the realm of excitatory plasticity. Nat. Neurosci. 21: 1463–1470.
Moczulska KE, Tinter-Thiede J, Peter M, Ushakova L, Wernle T, Bathellier B and Rumpel S. (2013). Dynamics of dendritic spines in the mouse auditory cortex during memory formation and memory recall. Proc. Natl. Acad. Sci. USA, 110: 18315-18320.
Aschauer DF, Kreuz S and Rumpel S. (2013). Analysis of Transduction Efficiency, Tropism and Axonal Transport of AAV Serotypes 1, 2, 5, 6, 8 and 9 in the Mouse Brain. PLoS One, 2013 8: e76310.
Bathellier B, Ushakova L and Rumpel S. (2012). Discrete Neocortical Dynamics Predict Behavioral Categorization of Sounds. Neuron, 76: 435–449.
Loewenstein Y, Kuras A and Rumpel S. (2011). Multiplicative dynamics underlies the emergence of the log-normal distribution of spine sizes in the neocortex in vivo. J. Neurosci, 31: 9481–9488.
Rumpel S, LeDoux J, Zador A and Malinow R. (2005). Postsynaptic receptor trafficking underlying amygdala associative learning. Science, 308:83–88.