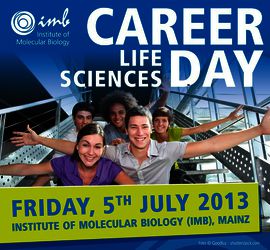 On 5 July 2013 IMB hosted a Career Day for undergraduates, PhD students and postdocs.
Modern life sciences today offer a very wide range of career options for young scientists. In addition to traditional jobs in academia and the pharmaceutical industry, the number of alternative career options is increasing.
The event featured talks by a range of industry personnel from companies such as Boehringer Ingelheim, and representatives from fields such as technology transfer and journalism. There were also workshops providing training in job hunting and interview techniques. Furthermore, a company fair gave participants the opportunity to network and get information about the many different career paths available for those with life science training. Organisations who took part in the company fair include Boehringer Ingelheim, Kepos, Miltenyi Biotec, Octapharma, Teach First and TRON.